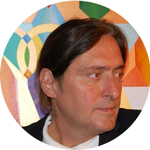 Art critic.
Member of the associations
Associació Catalana de Crítics d'Art, Madrid Association of Art Critics
Spanish Association of Art Critics and the International Association of Art Critics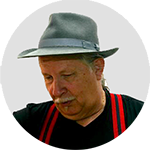 MARTIEN VERSTRAATEN.
Clairvoyant & Media Journalist.
Therapist in Regression to Past Lives.
Professor of Visual Arts & Metaphysical Methodology.
Author of: As Borboletas não podem Tamarar e as Tâmaras não podem Borboletear, Genetics of an internal & external career, Destinations, Intuitive Intelligence Laboratory, Netherlands – Curaçao – Brazil.

Camilo Villanueva's work is representative of the fascinating field referred to as "Transpersonal Art." He is a master of shape and form, which he uses to encompass colors never before seen on an artist's palette. His work reflect's "Chaos theory's Fractals and Holograms", giving each panting unique dimensions that add to its distinctiveness. It is "transpersonal" in the sense that it contains content that is spiritual in nature, displaying its roots in Nature, both that found out-of-doors and in the depths of the human psyche, leaving his viewers inspired as well as transcendent.
Stanley Krippner. 
The most important living psychologist according to the APA (American Psychological Association); tireless traveller at 85 who teaches in Europe, Asia and America. He has written and co-authored more than 30 books (Human possibilities, Song of the Siren, Dream telepathy, Personal Mythology) and published thousands of research papers.

Camilo Villanueva lived for a few years in the Córdoba mountains in Argentina.(VGB) I have been to Argentina and Cordova and I can see how and why he communes so effortlessly with the vast, hurtling galaxies of the immensity of the universe from his privileged perch and station in a Panoptic Tower on our minuscule planet. The organic and inorganic, zoomorphic, theriomorphic and anthropomorphic, geometric and shapeless merge, mutate and whirl in the polychromatic world created by him through art, to evoke an intimation of this immense universe, and, to establish a kinship between the phenomenal and noumenal, the human and the supra human, the corporeal and incorporeal. Camilo's art should help salvage the human being from the hubris of assuming supremacy over nature, restore the sense in humanity of being part rather than weaver of the web of nature, and help rescue humanity from the nemesis of self extinction.
 Dr.Kalyan Kumar Chakravarty
Harvard University, Graduate School of Arts and Sciences Ph.D., Fine Arts – University of Calcutta Master of Arts (M.A.), Modern History (India and the World) Comparative and interdisciplinary study of religion, philosophy and the arts. Arts Administration. Museology. Anthropology. Sociology. Archeology. Academic Associations. Indian Art Historiography, Biocultural Diversity in Central India, Ancient Indian Craftsmen, Indigenous Heritage. Oral and written material Book on Historiography of Indigenous Art. Early Buddhist Art from the Bodhgaya Books, Cognitive Origins of Human Creativity, Interface of Cultural Development.

Camilo expresses his unique creative power with paintings that impress with his super suggestive chromatic games, while sliding the observer inside passages that call him to be a part, evoking states of expanded consciousness that transcend the boundaries of the immediate real. His "initiatory" art, suggested in several of the titles of his works, is fully deployed in the motives that resonate with the profound conception of his work, giving account of both the author's very personal searches, as
well as the interior journeys to which You are invited to undertake the contemplative spectator
Lic.Juan Manuel Otero Barrigón
Psychologist. Writer. Professor Chair "Psychology of Religion" (Salvadors Uniersity, Buenos Aires, Argentina)Coordinator of the Religare Studies Network.


Entering Camilo Villanueva's work is like embarking on a transpersonal enthogenic voyage. I suggest you listen to Snatam Kaur as you unhurriedly visit his paintings letting yourself be inspired by what they may awaken in you. You will be surprised of what you can find. Camilo's work is a stepping stone to the liberation of the collective unconscious where we all are, transcending ego-separateness".
Román Gonzalvo.  
Dr. in Psychology and General Health Psychologist -University of Madrid-. He has taught in the USA, Mexico and South Africa and he is editor of the Journal of Transpersonal Research®..

Your work has deeply touched me. You are an excellent, profound and mysterious painter who has a great command of colours. You can draw from the Inner world which is very difficult to attain with the strong colours you choose. Besides, your work reminds me of what Freud said about the "Oceanic Feeling": Everyone in one, as a spiritual continuity.
Lic. Cristina Daneri. Degree on Psychology from the University of Buenos Aires. International Lecturer on Psychoanalysis -Freud, Klein and Lacan-. Education Research Centre (C.I.P.E): Lecturer in the annual seminars on the writings of Freud on art. Writer on Psychoanalysis and Art for magazines and specialized books of the Department of Ethics of the University of Buenos Aires.

Your art, it is very strong geometrically and carries a very powerful spiritual openness and sophistication. The contrasts in color and shape speak to me of the serious contrast we deal with in life and yet the harmony in the art reminds us our lives can be harmonious even with contrast of pain and suffering that visits us at times."
Elaine Clayton. 
Elaine Clayton Intuition Fine Arts Books. Elaine is one of the best Medium, Clairvoyant and Clairaudient and his Spirit paintings are Light for all. She lives in NYC (U.S)

Camilo Villanueva is an artist who embraces his true nature and creates works of beauty that are bathed in light. His artworks are beautifully descriptive reflections of lifes inner symphony. His is a field of imagination that honours all peoples. Each piece is invigorating , vibrant and captivating. Camilo is an artist from whose heart flows grace. There is conviction and passion to all of his authentic creative expressions.
Camilo Villanuevas art is a blueprint for life that illuminates an essence of exploration and conscious living awareness. The sublime majesty of the universe is within every piece . There is a wisdom and depth to the creative outpourings of Camilo that serves as a testament to his souls progression. Camilos works are gifts from the soul embraced by light.
Camilo Villanueva – highly distinctive , utterly original and uniquely visionary.
Michael Teal
I am a poet, Psychic, Paranormal Investigator, Mystic, Intituive Counselors, Spiritual Consultant. Hamilton,Ontario – Canada.

Camilo Villanueva's works capture the essence of life's journey beyond the physical and takes one into the transpersonal aspects of the human psyche. His works transcend the norm and submerge one into the depths of human consciousness. His paintings depict the complex beauty of the human psyche and it's interconnection to the universal energy that is within us all. Camilo's master pieces are reminiscent of the labyrinths of our dreams, the contemplations of our mind, the swirling fusion of our thoughts and emotions which ebb and flow, and ultimately illuminate our soul. Camilo's authenticity is evident in his work. His creative genius is a representation of his journey, our journey, and the journey of mankind; through the rebirth of consciousness. It is a pleasure to look upon his work, to feel the message of illumination in each vibrant stroke, and to know that each piece is a gift of awakening.
Chanell Jaramillo. 
MTP, CMH, HHP is a Transformational Coach and Holistic Health Practitioner specializing in Transpersonal and Energetic approaches to health and wellness. She resides and practices in Omaha, NE, USA.

It is unusual to find an artist working from genuine inner vision without mind altering substances. It is also unusual for such an artist to be working in a non-figurative style. In general, the artists classified as in the Visionary, Fantastic, Imaginary and Surrealistic styles use figures. It is more difficult to create an inner impulse or vision without figures. It means being in touch with the more subtle energies that exist prior to form. Operating with such a psychological orientation can mean that colors being perceived are not ordinary. It can be a challenge to translate such colors. Until I discovered Camilo's work I did not know of any non- figurative Visionary work other than my own. The difference between a non-figurative Visionary painting and an abstract painting is the source from which it was created. It is the psyche of the artist and his inner truth that determines this. To understand more about this, refer to (L. Caruana Manifesto on Visionary Art).
Camilo's work is original, genuine and uplifting. I am happy to be in his arena.
Haydn Anthony. 
Non- figurative Visionary artist

A gaze through the paintings of Camilo Villanueva is like a voyage to the depth of being, to its essence and to the vibration of the light waves it emanates.
"Worlds", "Seed 2" and "The Teacher", are just a few examples of the sharp vibration of the full reds, the violets, the blues and the greens; that is, of the inner states of being, of the emotions and the sensations.
Strokes of colour slide both steadily and smoothly at the same time, the time of postmodernism, where opposites coexist.
Camilo Villanueva takes us into his world of images, colours and feelings. He reveals the importance of colour and his visual thought; a thought which is expressed in his paintings, in his canvasses.
Marisa E. Avogadro.
Master in Communication and Education. Argentine Journalist and Writer.
Coordinator of the Section "RazónArte" in "Razón y Palabra", Mexico.

A transcendental field is a flow of a-subjective, pre-reflexive consciousness. The transcendental and the transcendent are not the same, and it is a state of virtuality where the event occurs. Consciousness is reflected in a subject in front of an object. In the sum of all this is from where Camilo Villanueva expresses himself.


Lic. Adriana Budich.
Master of Argentine Culture, Bachelor of Visual Arts, Cultural Manager, Professor of Painting. Business Development Associate at MIA, Art Palm Beach, Art Naples, Art Sarasota Concept. Teacher at UBA. She is curator of national and international exhibitions. Generator of Cultural Projects. Researcher and writer.