"Exclusive review for "XXII International Congress of Analytical Psychology"

From August 28 to September 2, 2022 Hotel Sheraton Buenos Aires, Argentina
Guest Artist: Camilo Villanueva
The argentinian painter whose name is Camilo Villanueva investigates through his work the limits beyond the tridimensional reality because he considers that what exists is the sum of all the dimensions that concur in the different multiverses
For that reason his work stands on the dynamic of jpining  shapes, matter, lines, abstraction and structures in a constant dialogue that reflects this multidimensional dynamism that he tries to exhibit naturally and simple
Thus, his creative work has as as a goal to stand among a variety of concepts that are present in a determination for change and transition from a material reality that embraces different inmaterial realities
Not only does he try to reach the inmaterial ,but also to reflect all that exists beyond the limits ,without forgetting the basis that nourishes us
That is why in his paintings a great amount of shapes , structures, and lines are present that define a deep look, which really comprehends the very existence in itself in the whole universe and beyond what really exists.
His contribution to  contemporary  painting is based on showing everything starting from the evidence of this change at a point when time on the planet earth seems to pass much faster and all takes place at an unusual rythm . It is for this particular reason that his actual challenge is supported by the new possibilities that the progress of science, the evidence of the essence, as well as realizing the complexity of everything that surrounds us offers and gives shape to our inner self.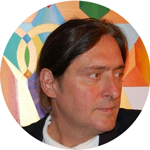 JOAN LLUÍS MONTANÉ.
Reviewer. Member of the Associacio'Catalana de Critics d'Art, Madrid Association of Art Critics, Spanish Association of Art Critics and the International Association of Art Reviewers.